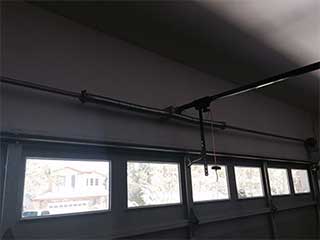 Most homeowners pay very little attention to their garage door while it continues to work well. However, if it should fail for some reason, you'll start paying a lot of attention to it. A malfunctioning door can cause massive disruption to your daily routine, not to mention, be extremely dangerous. It's essential that you keep an eye out for any potential problems. One of the most common issues that homeowners can find themselves experiencing is a broken spring. Whether you have a torsion or an extension spring, it's always better to seek professional assistance when dealing with a problem.
What Can Go Wrong?
Your garage door springs are the ones doing all of the heavy lifting. They support the full weight of the panels every time the door is opened or closed. These springs are designed to work reliably for a long time, but they only have a limited life span, which means that they will eventually break. When that happens, not only will your door become inoperable, it can be actually dangerous for you to try and do something about it. Springs are under a lot of tension, and when that tension gets released, they can end up seriously hurting any person standing nearby.
What are The Warning Signs?
When a spring wears out it'll lose some of its strength, which means the door will most likely begin to tilt a little, or be otherwise unbalanced. While noisy creaking sounds may be something you've grown accustomed to, they can – depending on how severe they are – actually be telltale signs that your springs need some care.
Maintenance is Very important
It's possible to increase the lifespan of these components by making sure they are regularly lubricated and adjusted. This will prevent them from overstraining, and will reduce the amount of wear and tear damage that they have to suffer. Our technicians can take care of this for you via our scheduled appointments.
Never try to Replace Them On Your Own
Special tools and a lot of experience and skill are required in order to be able to safely replace a broken spring. You should always contact our experts at Garage Door Repair Lake Zurich when you suspect something is wrong with your spring. We'll take care of the problem quickly, and without jeopardizing anyone's safety. Call us today.
You can also count on us for:
Garage Door Safety Inspections
Genie & Liftmaster Opener Repairs
Emergency Broken Spring Replacement
Broken Garage Door Track Repair