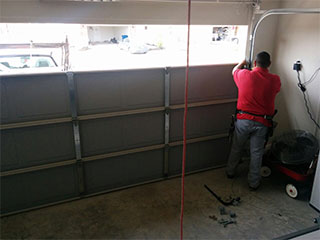 No matter what type of problem has inflicted your garage door system, you can count on our team of highly skilled technicians to quickly resolve the issue. Our repair specialists have a lot of years' worth of experience and we're constantly honing our skills in order to be able to provide every local homeowner with top quality services.
Broken Cable Replacement
The components that are in charge of preventing your door from collapsing after one of its extensions springs broke are the safety cables. However, they too can end up snapping, in which case you'll have to avoid from opening your door at all costs. Our team can replace your broken cable, as well as the broken spring, without jeopardizing your safety.
Damaged Rollers and Tracks
Your garage door tracks are used to guide the door's movement by providing the rollers with a structured lane to move along. If they develop any bends, your door could get stuck, and therefore it's important that you get your tracks repaired by experts to prevent a dangerous situation from occurring. The rollers, too, can become damaged, and since they are crucial to the door's safe and proper operation, taking care of them when this happens is extremely important. Our technicians can help you in both cases.
Worn Out Motor Gears
Your garage door opener is an electro-mechanical device that provides the necessary horsepower output for your door's operation. If you start hearing strange whirring sounds, but find that your door simply won't move, there could be something wrong with the opener's motor gears. Count on our specialists to quickly repair or replace them and restore your opener's operation in no time.
Contact Us Today
No matter how complex the problem you're experiencing may seem, our experts at Garage Door Repair Lake Zurich can offer you an affordable solution that will last for a very long time. Call us today.
We also offer:
Roll up Garage Door Maintenance
New Opener Remotes & Clickers
Garage Door Cable Replacement
Genie & Liftmaster Garage Door Openers